Selling the wifes XJ since we really dont need 2 rigs to maintaine. I will not part it out since I will be moving soon and dont need the headache. I will list it here for a week then it hits craigslist. I would rather see it go to Naxja member that will use it.
1989 Jeep Cherokee 4 door
Rubicon express 4.5" lift kit with drop brackets and braces with 2" coil spacers.
Chromoly steering with Heims that are tight and solid still.
Steering stabilizer.
Front Axle D30:
Reinforced control arm mounts and track bar mount
Yukon 4:88 gears and OX cable locker with the AWESOME OX diff cover.
Rear axle is a D44 with Yukon 4:88 gears and OX Locker and OX diff cover.
shock mounts are moved up higher for clearance.
242 Transfer case with SYE installed and balanced drive lines.
Rockers have been cut out and replaced with 2x4 3/16 thick steel
Upgraded Transfer case skid done by the artist formerly known as RockWerks!
I also have the gas tank skid from RockWerks but its not installed yet.
Brake booster has been upgraded to a late model WJ for better braking.
Tires are Super Swamper 34" SSR's with about 80% tread left with 2 brand new spares and 1 is mounted on a rim.
Motor runs good and strong and the AW4 has never given us a problem.
We recently drove it from Tucson to Payson, wheeled it and drove it home. It will do 75MPH all day long.
Custom rear bumper with receiver hitch welded in and cut rear corners. Front bumper JCR off road I think and has a SmittyBilt 8000 pound winch on it and tow hooks.
Front shocks are Rancho 9000 adjustable.
The bad: there are a few rock dents on the pass side doors, and the pain is starting to chip off. Its a flat green rattle can that has lasted several years so far. The driver door window has a bad wire on the motor. I have jury rigged it to work but you might want to replace the motor. It has popped 1 headlight switch a few months ago, I replaced with a checker cheapie and it died a few days ago and I haven't replaced it yet since we really dont drive it at night much. Also one of the rear hatch struts broke at the mounting place on the hatch. As far as I know that is the bad stuff. Not to bad considering its a 1989 rock climbing jeep.
Here are some pics taken today.
Price is FIRM at $3500.00 Cash, NO I will NOT part out so please dont ask.
Here are some recent pics: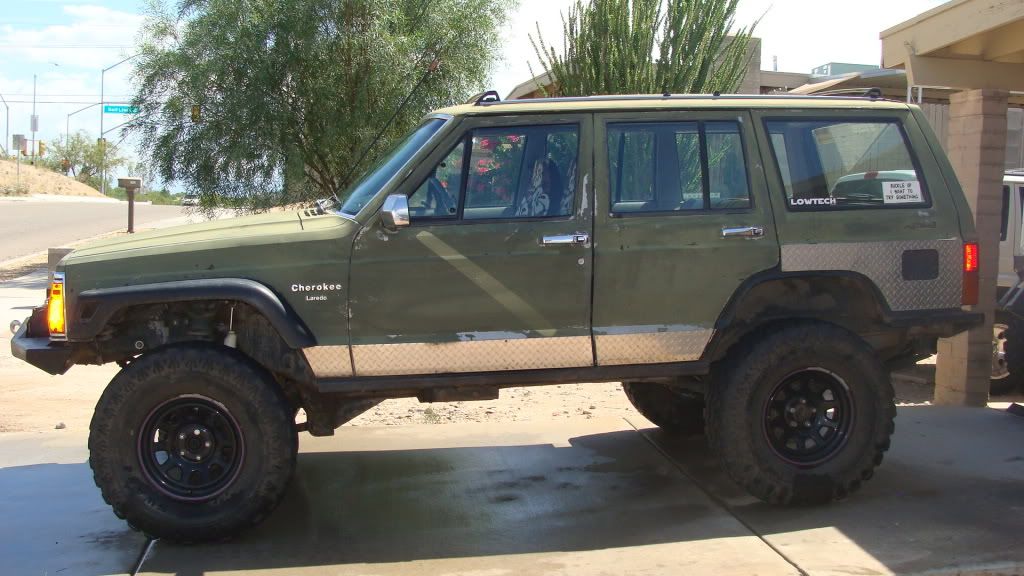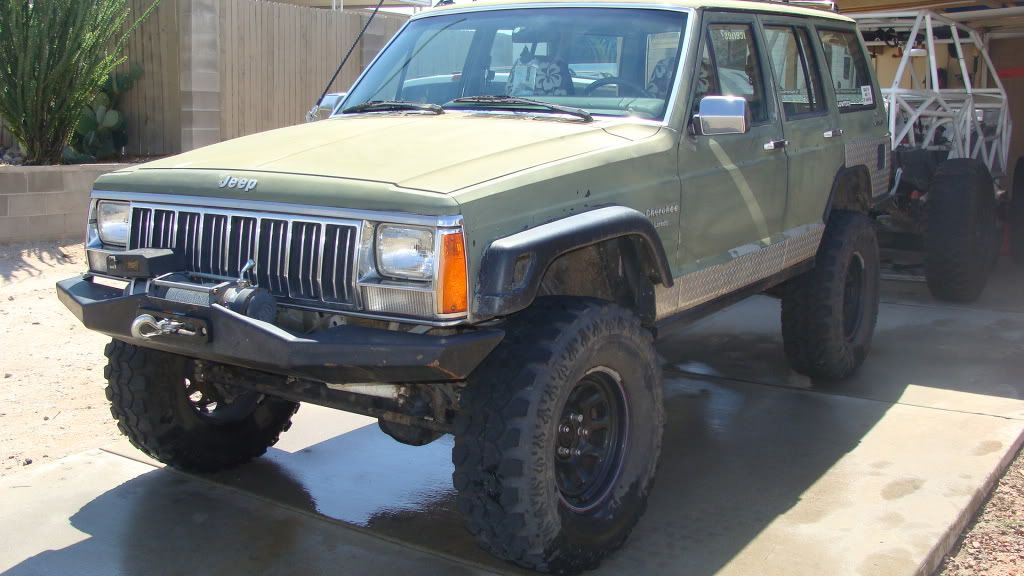 and a link to the rest of them HERE:
http://s100.photobucket.com/albums/m17/RockRunner127/1989 XJ Sale Pics/