Time to sell my 1999 Jeep Cherokee Classic. Jeep has 168k miles and plenty of upgrades.
Engine:
Bulletproof 4.0L I6 motor with Brown Dog motor mounts, APN header, K&N drop-in air filter, and Magnaflow exhaust. Starter, alternator, radiator hoses, ignition switch relay, cap, rotor, plugs, and wires, idle air controller, CPS sensor, and oxygen sensors have been all replaced recently. Rear main seal has been replaced and there are no engine oil leaks.
Drivetrain:
AW4 auto transmission, NP231 transfer case with Advance Adapters SYE, corrected speedo gear, rear Advance Adapters CV driveshaft, and Sac Drivelines long travel HD front driveshaft with Spicer u-joints. An added lockout switch keeps the transmission in 1st gear, when selected.
Suspension:
Jeep 5.5" SA suspension has been recently replaced with a 5.5" Rubicon Express 6200 Long Arm lift kit with 6300 full leaf packs, HD Offroad Engineering rear shackle relocation kit, JKS Industries adjustable coil over spacers (ACOS), Prothane 5" bump stops, and Rubicon Express swaybar disconnects. Bilstein 5100 monotube shocks are installed front and rear and provide an outstanding ride quality. The long arm lift kit and new leaf springs were installed at 165k miles.
Axles:
Front hp Dana 30 axle with 4.56 G2 ring and pinion gears, Yukon Grizzly full-case locker, Ruff Stuff diff cover and Lube Locker, Nitro Gear and Axle steel axle tube sleeves, mini skids, Synergy ball joints, and Warn hub kit with 4340 chromoloy axle shafts/Spicer u-joints. Front axle was completely rebuilt with seals, bearings, ring and pinion gears, and locker at 164k miles.
Rear Chrysler 8.25, 29-spline axle with 4.56 Sierra ring and pinion gears, ARB air locker, Ruff Stuff diff cover and Lube Locker, and G2 Gear and Axle rear disk brake conversion kit. Rear axle was completely rebuilt with seals, bearings, ring and pinion gears, and locker at 164k miles. The ARB air locker is activated by a Viair on board air compressor and 2.5 gallon air tank located in the cargo area. Compressor plumbing includes a separate air chuck for air tools and air hose for airing up tires.
Brakes:
4-wheel disk brakes and braided, stainless steel brake lines. Rear drum brakes have been replaced at 164k miles with the G2 Gear and Axle disk brake conversion kit including slotted and drilled rotors and Mopar proportioning valve. Brakes are outstanding.
Tires/Wheels:
Five (5) 33x12.50x15" Goodyear MT/R tires on 10" Cragar black steel rims with 4.25" offset. Tires and rims were installed at 162k miles. Spare tire is installed in the cargo area in a custom built utility box.
Steering:
Currie Enterprises "Currectlync" heavy duty steering system with welded over the top (OTT) GoFerIt tie rod flip, Old Man Emu (OME) steering damper, M.O.R.E steering box brace, Rubicon Express adjustable track bar and track bar brace, new Durango V8 HD steering box and high/low pressure lines.
Armor:
JCR Offroad front Stage IV bumper with 2" receiver (for winch or recovery equipment), JCR rear Stage II bumper with 2" receiver and unit-body tie in brackets for towing up to 5,000lbs, JCR rear lower quarter panel guards, OrrFab rear side protection with rails, and AJ's Super Rail rock sliders. Both front and rear bumpers are equipped with D-ring tabs for recovery shackles.
Other upgrades:
Viair onboard air system with 2.5 gallon tank located in the cargo area to run the ARB air locker and for inflating tires or running pneumatic tools; Bushwacker flat fender flares; Sony premium stereo and Polk Audio speakers; Firestick antenna hood mount and wired for your CB; Hood vents for engine bay cooling; integrated flat tow wire harness with bumper mounts and dedicated brake lights; driving lights (2) and switched/wired for a second set; new clockspring and alternator, AND much more.. . .I have every maintenance record and receipt for all parts installed since buying this Jeep in 2009.
Condition is better than expected for a 16 year old vehicle that has seen off road use.
PM me for more info. Serious buyers only. I have this listed on CL for 10,300, but I will take a realistic offer.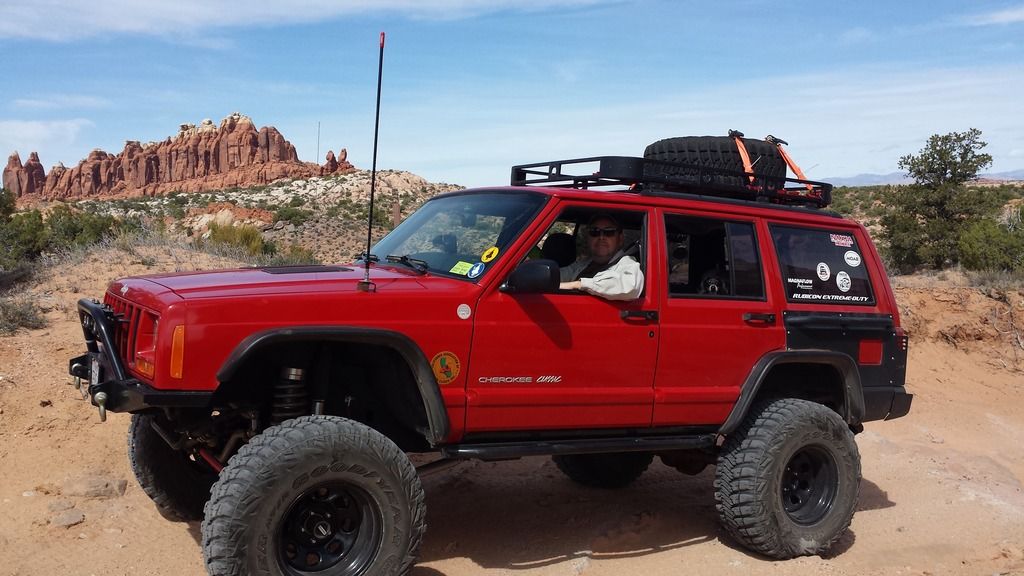 Last edited: