NAXJA Member
NAXJA Member
Hello all!:wave:
Recently, I have acquired a 2000 XJ Limited with a 4.0, aw4, np242, 156k miles.
When I got the Jeep, it didn't start. Crank, but no start. Turns out, the fuel pump was bad, so I swapped in a good one....fired right up. Didn't idle well. Not very smooth, and the exhaust rattles. But it runs, and that's all I cared about. Drove it around some, ran and drove well on the street.
When I took it out last week, the CEL light flashed 5 times, then went off. A code was stored, P0301 Cylinder 1 Misfire Detected code came up. During this drive, there were three seperate occasions of flashing CEL.
Fast forward to tonight. I changed the plugs(NGKs to NGKs) and air filter(nasty!), took it for a drive, and got the flashing CEL at pretty much the exact places it came on the first time. When it comes on, I am at WOT.
Here are the facts that I have gathered.
- Added a new battery.
- Oil pressure is very good, 40 at idle, 60 or so when at WOT. Have NOT confirmed via mechanical gauge.
- Oil is dark and dirty, but it is at the full level.
- The oil fill cap smells like oil and has the same color.
- Coolant overflow bottle is in the exact same level. I have not added any since I installed a new radiator.
- Using a screwdriver, I can feel the 'tick' of all the fuel injectors, including #1. But when I unplugged the cylinder 1 injector, the motor sounded no worse at idle than when plugged in. I did the other cylinders too, and noticed a slight loss of rpms when unplugged.
- I cranked the motor in clear flood mode, and it sounds normal. No weird noises or anything like that.
- Probably unrelated, but when idling, there is a noticeable vibration when I'm inside the Jeep, but undetectable inside the engine bay and under the Jeep. It goes away when acceleration. Probably exhaust related, but thought I would mention it.
- Probably unnecessary to include, but volts are at 14 when idling, 13.5 when accessories are running.
- Overall, the engine just doesn't sound right at idle. When you rev the engine, it sounds good. There doesn't seem to be any alarming noises either(no knocking, pinging, even no typical lifter tick).
Here are the spark plugs.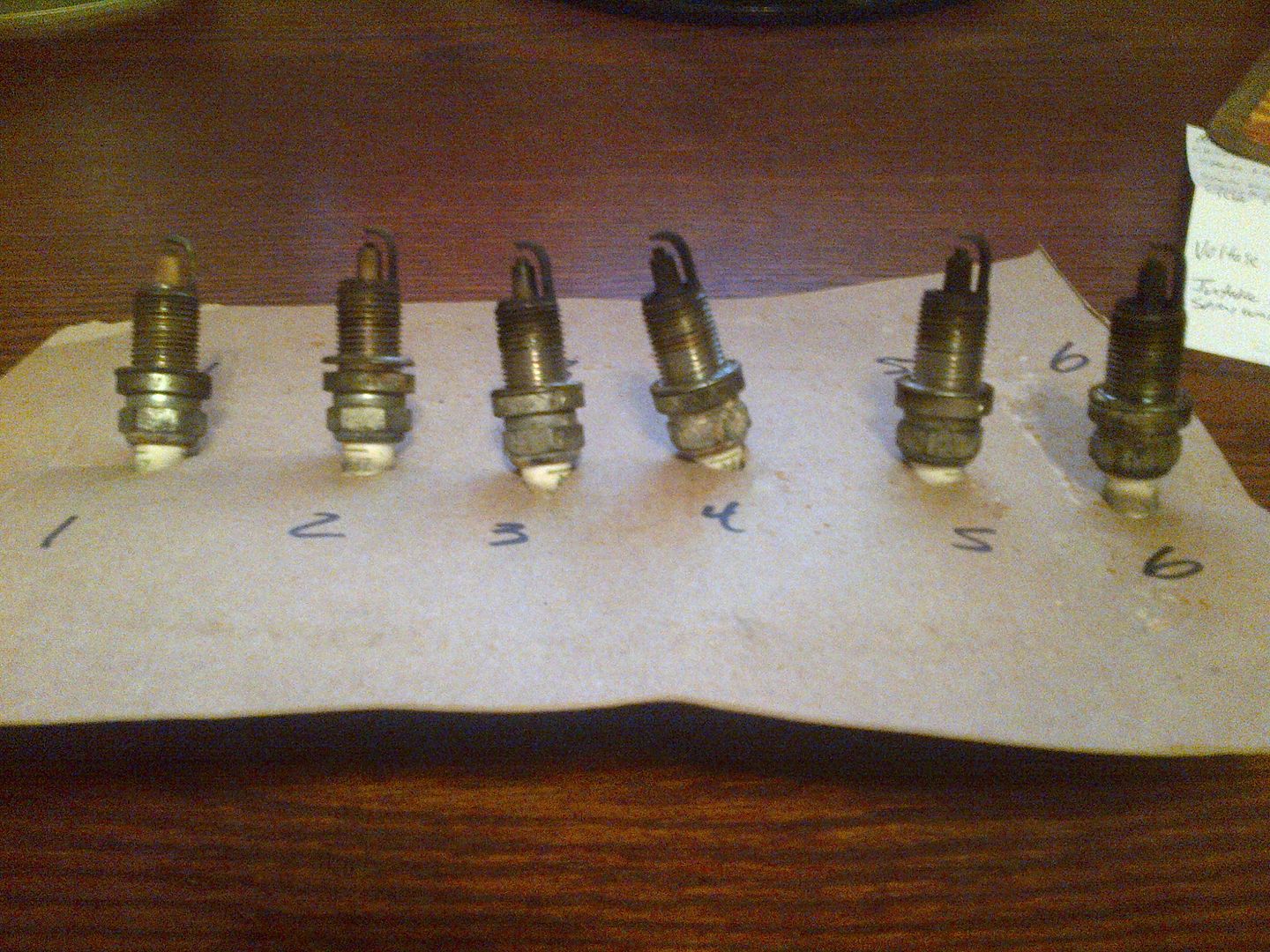 Cylinder one looks lighter in color than 3-6. It also has no smell, and all the others smell like burned fuel.
My next step is to spray some water around the cylinder 1 wiring and intake manifold to see if there is any change in RPMs.
After that, what's the next step? Compression/leak down test? Throw an injector at it? Test something else?
Last edited: