I stumbled across some square U-bolts that worked especially well for this application and thought I should share the information for anyone else who may be looking to do something similar.
Tacoma Screw Products has P/N 158-101-1, described as "3/8" x 1-1/2" x 2" Square Bend U-Bolts — Steel, Zinc"
Linky:
http://www.tacomascrew.com/s.nl/it.A/id.5543/.f
These are a snug fit around the factory bars, almost so snug that I rejected them as a possibility until I test fit them in several different places on different bars. Whether the differences in the factory bars are the result of age/abuse or of loose factory tolerances I don't know, but I was able to get these onto the factory bars with a little finesse and persuasion (just by hand, no BFH required) in the tight places. In other places they went over the bars effortlessly.
The 1 1/2" dimension is the distance between the legs, and the 2" dimension is the length.
It was not until I was disassembling things that I remembered I wanted to take pictures, so these pictures show a state of nearly removed. The 2" length gave me enough thread to fit an SAE washer and Nylock nut over 3/4" plywood and have 1-2 threads above the nut.
Pics:
And: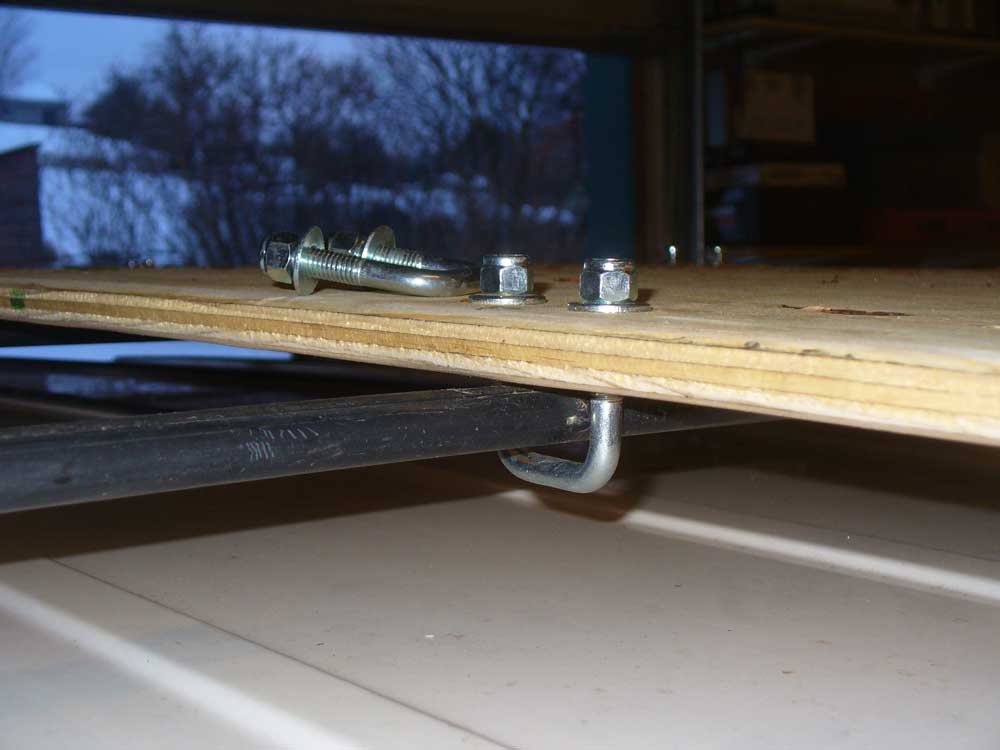 Hopefully this will save someone else a hunt.