Well, I finally got tired of having my hi-lift mounted to my hybrid cage. It was easy to get to up there, but I was always worried it would get stolen sooner or later. Also it kinda reminded me of some ricer with the big spoiler mounted on the back of his Honda. I decided to see if I could make it fit under the back seat. I knew of other guys who keep their hi-lift's under there, but every one I've seen is just thrown under the seat and isn't attached to anything. I don't like loose heavy stuff inside the Jeep in case of a wreck or rollover, so I decided to build a mount for it under the back seat. It's a tight fit, but with the baseplate removed from the jack and some maneuvering, it fits perfectly and looks almost factory. It's plenty sturdy and easy to remove the jack if the need arises. Total cost was about $6 and a few hours of my time.
Here's how it looked under the back seat before I started.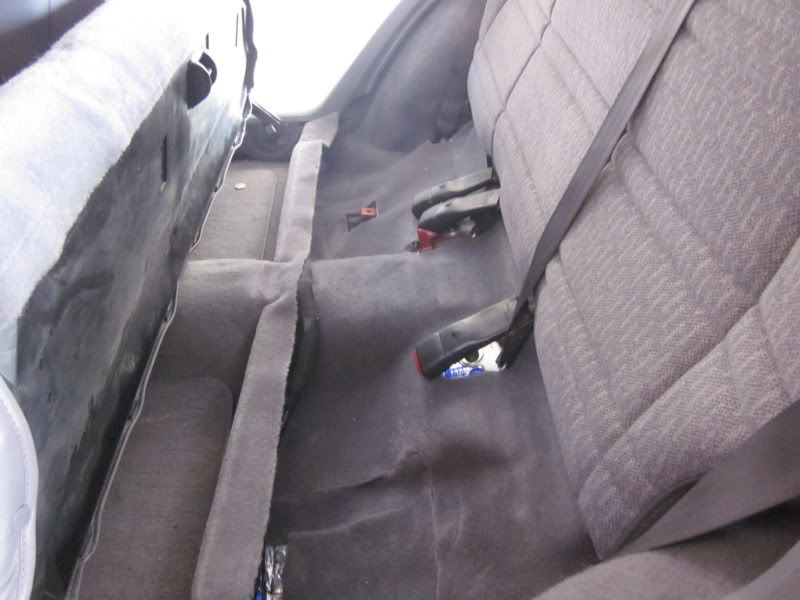 I started with a 2" x 9 1/2" piece of flat 3/16" stock.
I used my high dollar metal bender to put some bends in to fit the contour of the floorpan underneath the seat.
I ended up with this.
I had to hammer down the hump in the floor about 1/4" to gain enough clearance for the jack to fit between the seat and the floor. It didn't take much. Then I laid the jack in place and center punched where I planned to drill the holes for the mounting bolts.
Next, I drilled holes in each end of my bracket to mount it to the floor, then drilled two more holes to align with those I had already drilled in the floor. I ran 1/2" x 2-1/2" grade 8 bolts through the center holes in the bracket and welded them in place. My welds came out fugly I guess because I didn't take time to clean up the steel. I'm not proud of how they look, but they'll hold.
With the bracket in place, I drilled two more holes in the floor to install the bolts in the end of the bracket which will hold it in place when the jack is removed.
After cutting the carpet for the bolts to go through, this it what I ended up with. Looks stock except for the two bolts sticking through the carpet.
After mounting the jack, I used 1/2" stainless wing nuts to hold it in place.
The seat sits down and latches just like it always did and you don't even know the jack is under there.